We are Commercial & Residential Interior Designers in Delhi
Professional Luxurious Interior Designers in Delhi & Ncr Excellence - Quality - Commitment - Transparency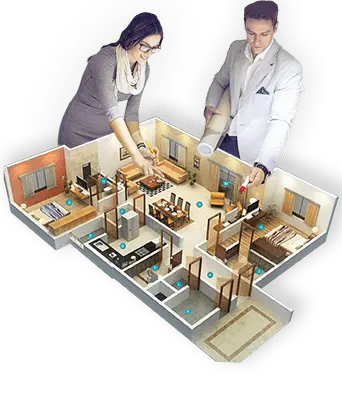 Best Interior Designers in Delhi NCR
When it concerns your home you want everything to be perfect. Therefore, your home interior plays an important role to change the appearance of your home. With an authentic experience for a very long period, Thethekedaar is one of the best interior designers in Delhi NCR who will enhance the beauty of your home. The initial stage of the designing process begins with space planning and looking up the requirements of the customer and satisfying them. Afterward, we emphasize planning the most suitable strategy to accomplish your goal.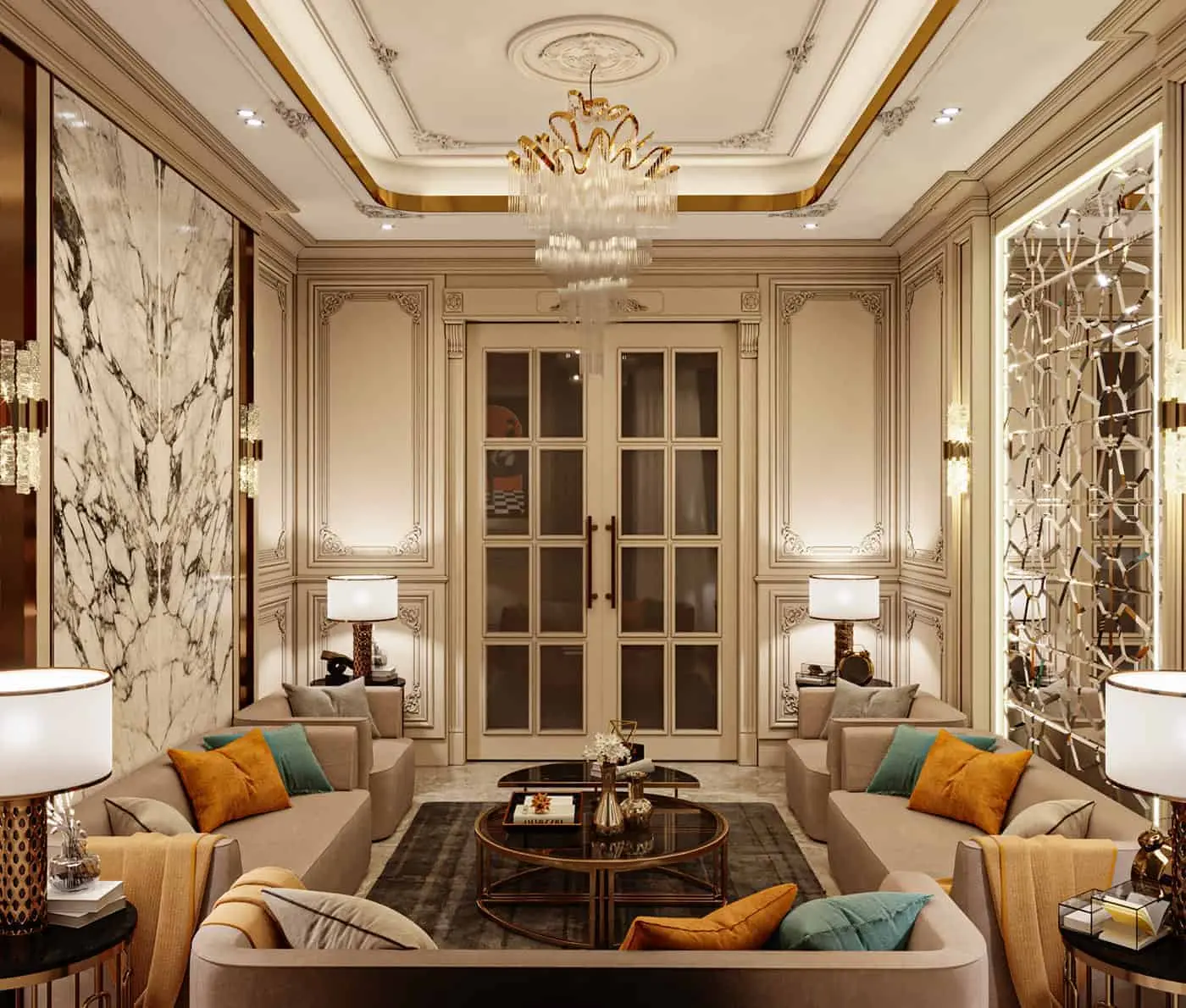 We have a team who will take the charge to design your home. In this process, there is a detailed drawing including designs for luxury home designs, open terrace designs and wall designs, etc. We do quick, straightforward, and accurate site control throughout the process. The result is always authentic and usual, which shows the individuality and feelings of the customer about life. By implementing all the right strategies, we are doing work in the commercial and residential sectors. However, whatever the situation is our primary focus is to give our best by living up to our core values. It would be great to turn all the desires of our clients into reality.
Our Designing Process
MEET AND DEAL
The first stage in the process of meeting the customer and understanding is always to take all the steps to understand and collect information for the creation of the concept.

PLANNING AND DESIGN OF SPACE
We will start to plan and manage an agreed conceptualization based on an initial discussion.

DEVELOPMENT AND DESIGN
After the concept has been developed, we will offer you complete drawings and conceptual representation for a better understanding.

CONSTRUCTION AND INSTALLATION
Here, we have translated conceptually designed dreams into reality.
Core Values
Loyalty, Honesty and Trust


Ingenuity


Accountability and Commitment to Customers


Diversity, Innovation and Quality


Value-centricity


Passion and Humility


Continuous Learning and Constant Improvement


Teamwork


Simplicity

TheThekedaar interior designers Team
Top 6 Reasons Why You Need Interior Designers in Delhi
Time-saving Decision
When comes to designing every space of your house proves to be exhausting. Besides this, it takes a lot of time, and in return you get nothing. Therefore, the best way to resolve this is to hire an interior designer who will change the appearance of your home.
Design your Home in Your Style
Interior decorators have better knowledge related to design. As a result of this, they will design your home according to your preferences as it matters the most.
Good Planning
The entire process of designing works on in-depth planning and assessment. Due to this reason, interior designers formulate a plan before designing so that they work according to it.
Works as Per Your Budget
When you hire affordable interior designers then they work according to your budget. Further, they will purchase all the material that goes well with your budget. Most importantly, you can get a stylish home with exceptional designs, attractive colors, and modern furniture with a limited investment.
Modern Tools
Nowadays, interior designers use fine-quality tools for designing your home. Thereafter, they take support of modern software and tools concerning with planning of home and office renovation. While taking the support of these tools they will make the renovation work easier.
Creative Ideas
Following the everyday room designs in these changing times is not a great idea. When you want to change the look of your home or office, you need some creative ideas and designs. Moreover, when you hire an interior designer then they will provide you with innovative ideas and designs for every space.
Enhance the Beauty of Your Home With The Interior Designer Team of Thethekedaar
If you want to renovate your old house or give it a unique look, then you must prefer to consult a professional expert. We at Thethekedaar highly believe that everyone has the wish to live in their dream home. Therefore, hiring the best interior designers in Delhi like us to design your home is necessary.
But why should you look up to our services among the leading interior designers in Delhi? Here, we have marked down the fundamental reasons why you choose our services.
● We Help You To Save Your Hard Earned Money & Time: Mostly, all the clients approach us with a restricted budget and a short period. As industry experts, we know how to execute our plans and aim to design your home within a fixed time. However, if you have a plan to sell your home in the future, then a well-decorated home will increase the value of your home.
● Variety of Design Options with Variable Budgets: We offer you various options that go well with your liking, space, lifestyle, and budget. While remembering cost in mind, we provide our clients with different affordable designs and allow them to choose from as per their liking. Besides this, we can customize the design where you can include your personal touch.
● Quality Is Our First Priority: Our motive is to never compromise on quality and offer the best services from our end. Besides this, we present all the ideas concerning interior and lifestyle needs. Therefore, for all the projects in our control, we make sure that we connect our clients with the latest design ideas and renowned furniture & decor brands.
● Fine Living With Vastu Alignment: Nowadays, many clients look forward to Vastu-aligned homes. Due to this reason, we do the design as per your requirements. It will be great to surround yourself with the right energy flow where you are living. Moreover, we aim to provide you with the stylish, affordable, yet Vastu-aligned dream home.
Reasons Why our Approach Becomes the Way to Achieve Customer Satisfaction
At Thethekedaar, we acknowledge that every project's requirement is different. As a result, we include your ideologies to create your dream home. If you are still in doubt about why you should select us from other interior designers in Delhi, then you should know our working method that impresses our clients.
The initial phase of the designing process begins with meeting the client and getting to know each other. It becomes necessary to know which things our clients like.
In the creative process, the initial work begins with concept design. Further, we create architectural layouts for your property and design styles.
In the design development stage, we get into the detail of the scheme. In addition, we also modify the internal and take care of materials used for floors, walls, furniture, etc.
● Construction Documentation
Once the designs are approved, we have to work on detailed construction documents so that the work goes in the right direction.
● Construction Administration
Our team will also see that all the necessary materials are ordered correctly. Afterward, when all the materials are approved, along with the financial expenses, then the construction work begins.
How Much Do Interior Designers Charge in Delhi?
Hourly Fee Structure:

The average price for a principal designer is around $230-$300, but the gap can range from $140-$500. Often a designer who works on an hourly rate structure will require a retainer to begin work on your project. Pending on the scope of work, this can be anywhere between $1900-$10,000.




What is Included in Interior Design?

These "interior design" elements include space, line, forms, light, color, texture, and pattern; and keeping them balanced is the key to creating an aesthetically pleasing interior.

Interior design is a multifaceted profession that includes conceptual development, space planning, site inspections, programming, research, communicating with the stakeholders of a project, construction management, and design execution.




What's the Difference Between an Interior Decorator and an Interior Designer?

A professional interior designer must understand interior architecture and works closely with architects to design the interior space. In other words, decorators are hands-off in the design process, whereas interior designers may design and decorate.




How Long Does it Take to Interior Design a House?

There is however some level of approximate timelines that each of the stages should take. The interior design project from inception to completion takes 10–12 months on average and this is dependent on the fact that most of the things go as planned.




Designer False Ceiling Ideas for Your Home or Workplaces

With glossy finished flooring and a direct but painted false ceiling (also known as suspended ceilings or falling ceilings), beautifully built walls, and you're done. You nailed the interior design of the home or office. We have the best interior decorators in Delhi. The true rooftops of our homes or workplaces are no false ceilings. But it will give your FALSE CEILING DESIGN an elegant and full appearance. In addition to appearances, false ceilings have some significant benefits. A crucial aspect of interior design is the planning of false ceilings. Want more information? Feel free to contact us. We are one of Delhi's most adequate false ceiling preparation and construction service providers.




Flooring Designing with Delhi Top Interior Designers

Home interior and office interior designs are incomplete without shiny finished flooring. Most of the strain is tolerated by our home or office floor surfaces. So, maintaining them is necessary. We are the best flooring design service provider for wallpaper flooring, tile flooring, marble flooring, and wooden flooring or mosaic flooring in Delhi, whatever you like. In order to give your office and home interior a fair and elegant look, our experts will enhance your floors. We have the best facilities for interior design.

Design Your Kitchen in Modern Style with Us.

The focal point of a home is the kitchen. It revolves around family life. And we cook our food on it, of course. So it is essential to keep a kitchen neat, tidy, and clean. And to promote function, a kitchen should also be well built. When it comes to modular kitchens. We are a top interior design consultancy, that will provide you with all the assistance needed for a modular kitchen design service that is well-built and attractive.

Carpentry & Wardrobe

In a fully furnished flat or own house if we don't find any place to keep our precious things, we usually don't love that place. What furniture would fit the interior of your home and office? Do you have extraordinary designs of furniture in your imagination? What kind of wood or carpentry work are you going to need at your location? Building wardrobes, wooden doors and windows, aluminum frames, sliding glass doors and windows, you're going to get it from us whatever you think. Thethekedaar has the best services in Delhi for carpentry and customized furniture design.

Innovative Bathroom Designing Ideas for You

The bathroom interior design has always been in every one of our priorities. Finding someone in the bathroom who doesn't sing is not easy. And we also like relaxing in a luxurious setting. In today's world, bathrooms are becoming a luxury segment of our homes and office. Thus, designing a well-decorated and usable bathroom is a top priority when decorating a house and office. Designing bathrooms is not a new idea. Luxurious fittings and lighting have often been built-in bathrooms. But this was historically limited to the upper class of society. But now, the bathrooms have been given a great deal of consideration, be it a castle, an office, or a small apartment. Thethekedaar has one of the best design ideas for bathrooms.

Modern Residential Interior Design in Delhi by Thethekedaar

We deliver outstanding residential interior designers in Delhi. Our interior design business builds a home that complements the dynamic ways the environment adapts. From design to execution, We develop practical solutions for residential home interiors.

Office Interior Design for Your Workspace with Famous Interior Designers in Delhi

We an interior design consultancy, combine luxury residential styling with our client's financial requirements. Our interior design company offers first-class service or various color variations, and textures for the office interior decorations venue. Our business provides interior design at an affordable price for offices.

Commercial Interiors Design with Thethekedaar

As we are an interior design company in Delhi, we provide customers with the finest commercial interior designers in Delhi. The working atmosphere represents the culture and ideals that you create for society. We are offering you modernized designs and interior solutions for Luxury Hotels & Leisure areas.

We emphasize transparent relationships between our business and our customers. We are among the best and super fast interior designing companies in Delhi NCR. By giving our customers the best interior and exterior designs and our loyalty, we earned our credibility. We use only the best quality materials available on the market for design purposes.

About the products used, we are frank and straightforward and never deceive our customers. Thethekedaar uses precisely the same standard materials as Office interior designers in Delhi to commit to renovating their interior and exterior for our customers.

For us, the only priority is the customer. Our mission is to design your home's interior and exterior in a way that looks simple yet elegant. In interior design, making a room more functional is an important feature.

Interior designing consultancy tries to give their loyal and honorable clients the utmost facilities and the best facilities they can even imagine. We never fail to commit anything to our clients. We strive to preserve accountability, a good relationship with our customers, and a safe one.
When a team of interior designers works together, every space becomes beautiful. We have professional luxurious interior designers in Delhi NCR who know what to do in the right manner.
New Design is one Click Away.